Torrent Link:
http://bbs.btpig.com/attachment.php?aid=471012
updated in 12/15/2007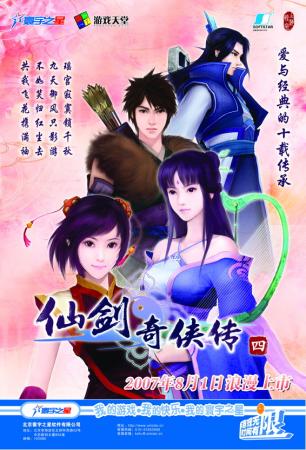 Xian Jian IV Simple Chinese Version
this version can pass SF5,
1: load the mds file to install the game and install the 1.1 patch.
2: unzip PAL4 Ban CD-Key patch, move under game folder.
3: load the game, require you to restart the computer.
4: after restart the computer, use DeamTool 4.11 load CD4 to play game.
CD4 CAN NOT be under NTFS folder
中文名称:仙剑奇侠传4
英文名称:PAL4
游戏制作:大宇资讯
游戏发行:寰宇之星
游戏类型:RPG
发售日期:2007年
配置要求:
 CPU: PentiumIII 933MHZ PentiumIV 1.6GHZ或更高
 内存容量: 256MB 512MB(DDR)
 显卡: nVidia GeForce3(64MB) nVidia GeForce4(64M或更高)
 操作系统: Windows 2000/ XP/ VISTA32/ VISTA64(简体中文版)
 DirectX版本: DirectX9.0C版本
 硬盘空间: 3G
 声卡: 支持Direct Sound的声卡
 光驱: 8倍速以上之CD-ROM或DVD-ROM
 操作设备: 鼠标(必备)、键盘(不支持手柄)
 颜色质量: 32位
 屏幕分辨率: 800*600,1024*768,1152*864(仅窗口模式),1280*960(仅窗口模式)
游戏简介:
  身为大宇'招牌双剑'之一的《仙剑奇侠传》,今日正式放出《仙剑奇侠传四》最新图片以及游戏内容介绍,预定 2007 暑假发行,喜欢本系列的玩家敬请耐心期待!
◆ 经典游戏全新打造 新引擎运用
  大宇表示,《仙剑奇侠传四》将是一款以全新的内容与技术打造的游戏,采用的新引擎在效能上会有大幅提升,无论是场景的规模还是底层资料的处理都会比以往表现更佳,就算是巨大的建筑群,也可以让玩家随心所欲的调整视角,从自己最喜爱的角度来观察、操控。
  玩家除了可在黄沙翻滚的沙漠中行进、在大雨瓢泼的夜晚于小镇之中打尖住店,也可以在仙境般的神秘场景细听点点萤火讲故事,而这些场景都会搭配特效与天气系统,为玩家带来更多浪漫与感动。
◆ 新人物'慕容紫英'登场
  除了过去的蜀山外,本代将带领玩家去了解另一座仙山'昆仑山',昆仑山与蜀山一样,是一座修道还真之人所聚集的仙山,但昆仑的处世观念则与蜀山截然不同,修炼方法也另有玄机。
  而同为修真门派,为何在蜀山相关的故事中一直没有提及昆仑呢?昆仑与蜀山的关系又是如何呢?昆仑在拯救天下苍生的行动上又处于何种地位?目前已经可以确认的是,昆仑利用自己的仙山灵气,泽被了附近的人们,使百姓能够免受恶劣气候的影响。但是山上修仙的人却好像要尽量避免与凡人接触,包括那些上山求仙的人们也被冷酷地挡在山门之外。这就是传说中靠近仙界的人间仙境,这就是那群飘渺如不食人间烟火般的修仙者们所居住的仙山昆仑。
安装说明:
仙剑奇侠传4(可以过SF5) 简体中文汉化版
1、载入镜像正常安装游戏,并打上1.1升级补丁;
2、解压PAL4免激活补丁,覆盖到游戏目录下;
3、载入CD4进游戏,会要求重启,重启后用DT4.11挂载CD4即可进完美入游戏,Playing;
PS:过SF5加密必须要用DT4.11,切记彻底删除原来的旧版本DT
daemon411-lite-x86——32位系统用
daemon411-lite-x64——64位系统用
请根据自己的需求选择安装DT4.11
最后,感谢论坛会员"风的归宿"提供高精度mds!
补充说明(非常重要):CD4镜像绝对不能放在NTFS压缩分区或目录里,否则无法绕过SF5加密,切记!!!
请注意:游戏时需要加载镜像文件!!!
做种时间:周一至周五晚6点到早6点保证有种,早6点到晚6点做种情况不定,双休日24小时做种!