Moderator: Xian Jian Committee
Dedicated Pal Fan

Posts: 117
Joined: Thu Aug 23, 2007 2:59 pm
Location: China
---
Chinese Paladin Lover

Posts: 64
Joined: Wed Jun 20, 2007 5:48 am
Location: US
Nice, I recognize these as pictures that appear during the credits at the end of the game. Do you have any of them in bigger resolution?
Wow, is this nostalgic or what.
---
Dedicated Pal Fan

Posts: 117
Joined: Thu Aug 23, 2007 2:59 pm
Location: China
the biggest resolution is 640*480....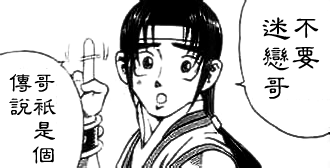 ---
Administrator

Posts: 2384
Joined: Sat Jul 01, 2006 7:26 pm
Gender: Female
Favourite Xian Jian Character: Zhao Ling Er
Location: Sydney
Contact:
♥Xiaoyao and Ling'er~~~
---